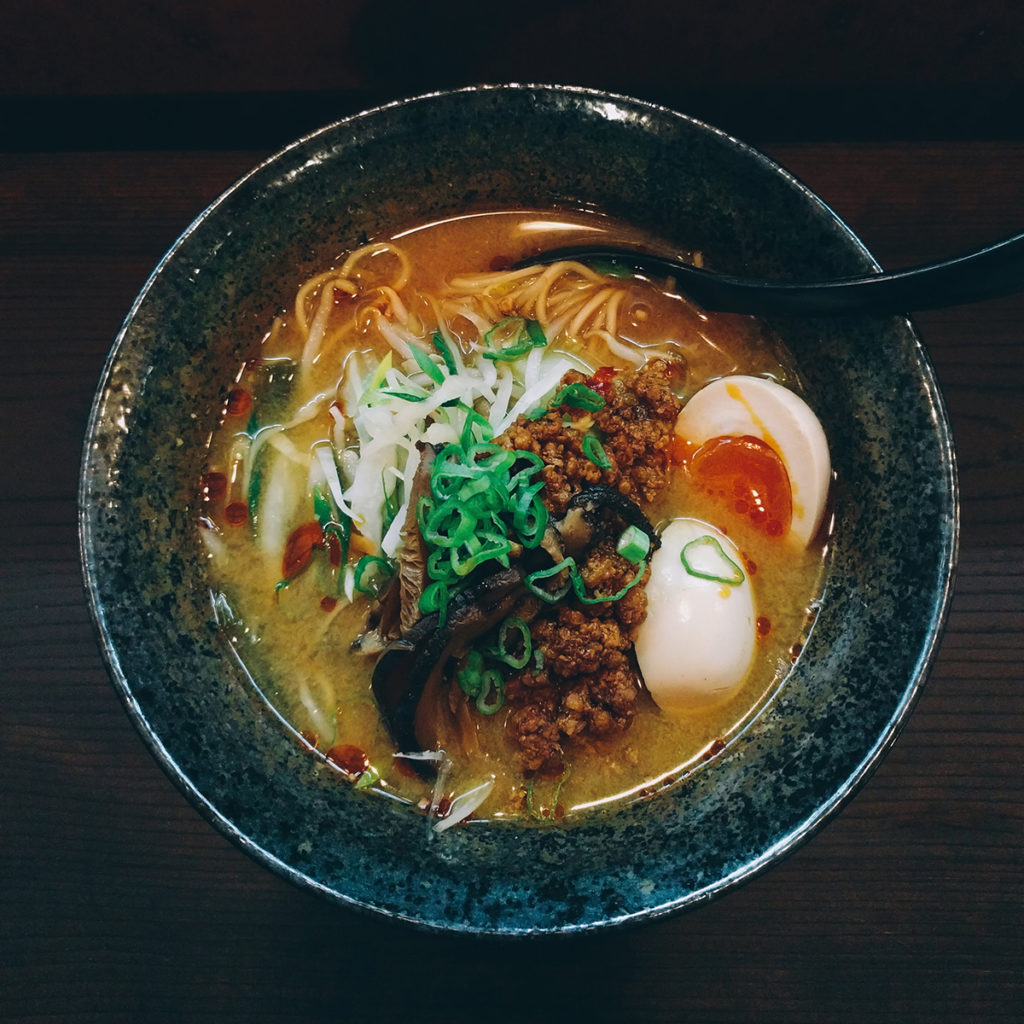 Bowls of ramen I had this year: 4
Today is a special day for me:
After 6 months of hard work I'm finally launching monote.
I quit my job in October last year to learn how to code and build something of my own and monote is the result of these last few months!
So what is monote?
I often stumble upon interesting products on the web, but then can't find them again later. I used to be a heavy user of Svpply back in the day, but never found a good alternative when it was shut down (RIP). I've tried to use alternatives like Pocket, Pinterest or Kit but none of these tools ever really worked for me.
So I decided to built my own tool: monote is a bookmarking app for products. It's a little Chrome Extension that lives in your browser and whenever you see something interesting you can quickly add it to your Wants.
Instead of just having one big wishlist, you can organize your products in different collections.
Here some of mine:
• Books I Want to Read
• Furniture I Like (I just moved into a new flat)
• Things That Make Me More Productive
I also started using monote to keep track of how much stuff I own:

You can also build collections based on articles, videos, books or podcasts: I often find myself listening to podcasts or reading blog articles that mention a lot of products and wish there was a quick way to find and save them.
Here are a few examples:
• The Marc Andreessen Reading List
• Blue Bottle Brewing Tools
• Tim Ferriss' best purchases under $100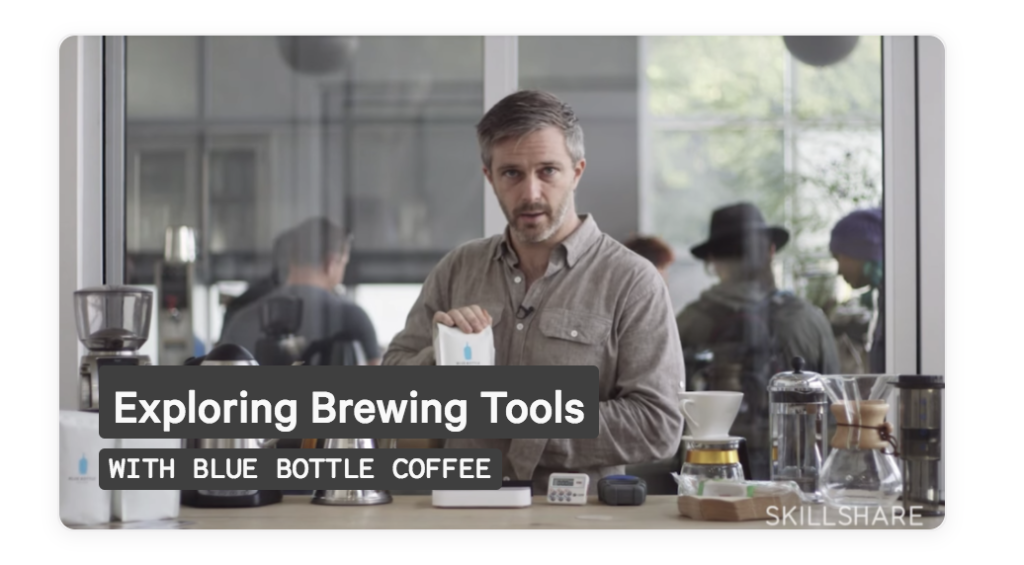 I'm a total list junkie
– so all collections on monote are also available as sortable lists.
Here is a collection of all products listed in Tools of Titans, for example. You can sort it alphabetically by product name, comment (the different interviewees in this case), product category, price or popularity (number of people on monote who Want the item).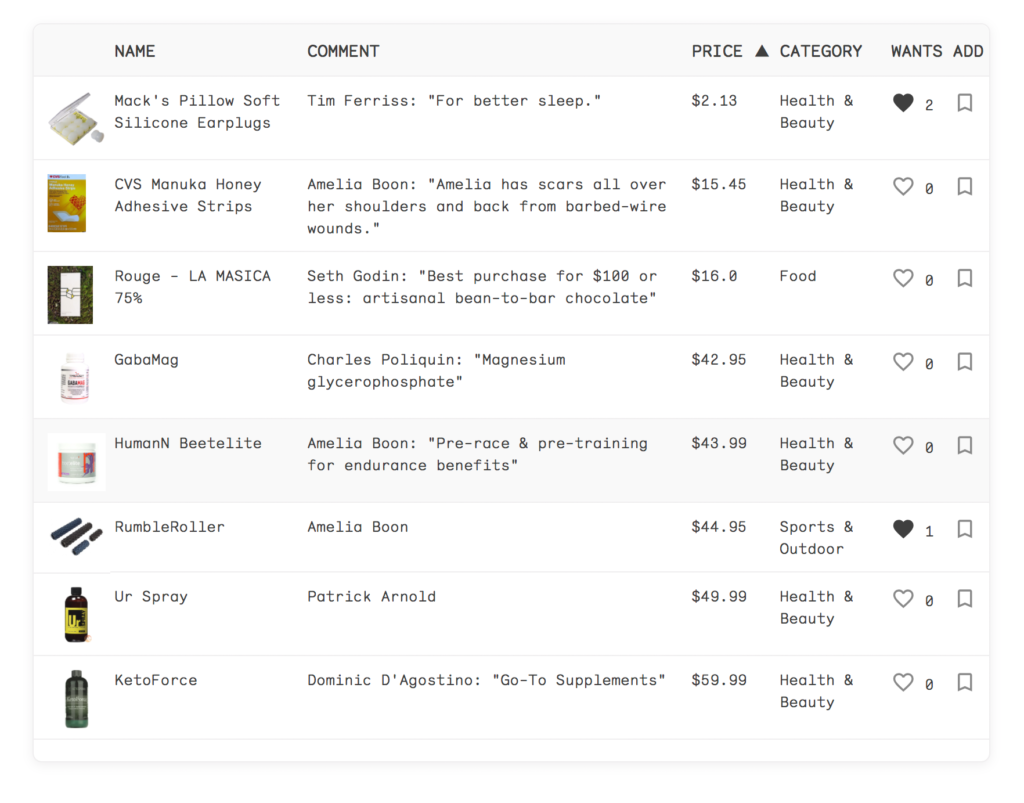 I'm lousy coder and this is literally the first time I'm launching anything, so please excuse any bugs. This launch will hopefully give me some insight into what's working and – more importantly – what isn't. Once those things are fixed, I want to add some additional features. Here's what's on my to-do list:
• Try to get the extension to work on all sites
• Custom columns for collections
• Search
• Ability to Add/Want or Fork collections
• Firefox support
Okay, enough chit-chat. Head over to monote and give it a spin!
Let me know what you think over at Twitter or add your feedback to this Product Hunt thread.
It's been almost 6 months since I quit my job – time for a more detailed post about what I've been up to since then.
When I left Google in October last year to start something of my own, I didn't have a clear plan of what exactly I actually wanted to do: I didn't know if I wanted to work as a solo-entrepreneur or with other people. I didn't know any potential co-founders and I didn't know where I would find them or what qualities to look for in them. I didn't know if I should start a lifestyle business or raise venture capital. I didn't know how much I would have to make for a lifestyle business to be sustainable and I didn't know how to raise money. I didn't know how to build a product nor a company. And this is exactly why I wanted to give it a try.
Pieter Levels posted a good tweet storm recently about the right time to quit your job. While I generally agree with Pieter's conclusion that you shouldn't rush into it, I also know a lot of people (including myself) who don't have the necessary time or dedication to get their side projects to that revenue point where you can easily make the switch. I know that I would have probably used this as yet another excuse to go all-in. Instead, I decided to save up enough to be able to survive for about 18 months. If you live a minimalistic lifestyle and take advantage of geographic arbitrage those savings don't have to be as high as most people think.
I had an idea for a product for quite some time, so I decided to just start building that and see what would happen along the way. I had built websites in the past and did some coding courses, but never actually designed and built a software product from scratch, so this was also a good way to learn how to code and find out where my boundaries were.
Over the past couple of months I hacked together a little app called monote, which lets you bookmark and organize products you find on the web. I will follow-up a separate blog post with more details about the product and my motivation behind it. While building monote I lived in a bunch of different cities, switched co-working spaces often to meet different people and reached out to a bunch of entrepreneurs and investors to seek advice.
Here's what I've learned so far:
1/ I'm not solo-entrepreneur
I do like working on my own – but I just enjoy working with other people a lot more (co-working spaces and online communities like WIP help, but are not the same). Also, being a solo-founder severely limits the complexity of the products you can build.
2/ Digital nomadism is not for me
I love traveling and working remotely, but I found that I'm a lot more productive when I'm in familiar surroundings.
3/ Be as transparent as possible & build your product in public
This is probably the biggest mistake I made. Instead of sharing my ideas and getting people's feedback, I spent way too much time working behind closed doors worrying what others might think. I should have written a post about my idea on the day I quit my previous job and publicly share every step of the process of building my product.
4/ Receiving feedback is hard
I'm still trying to figure out what the best way to filter feedback is. You should to take feedback seriously, but you shouldn't take it too close to heart either.
5/ Failing is good and opens up new opportunities
< Insert witty the-journey-is-the-destination-quote here >
So what's next for me?
I'm aiming to launch monote this week to get some more engagement and retention data. At this point and in its current form I would expect monote to stay more of a side project rather than a company I work on full-time. I'm also super excited to announce that I'll be joining Entrepreneur First's first Berlin cohort to find a co-founder and start an actual company.
I've learned a lot in the past 6 months and found answers to some of the questions I had back when I started. Let's see how many more questions I can answer in the next 3 months.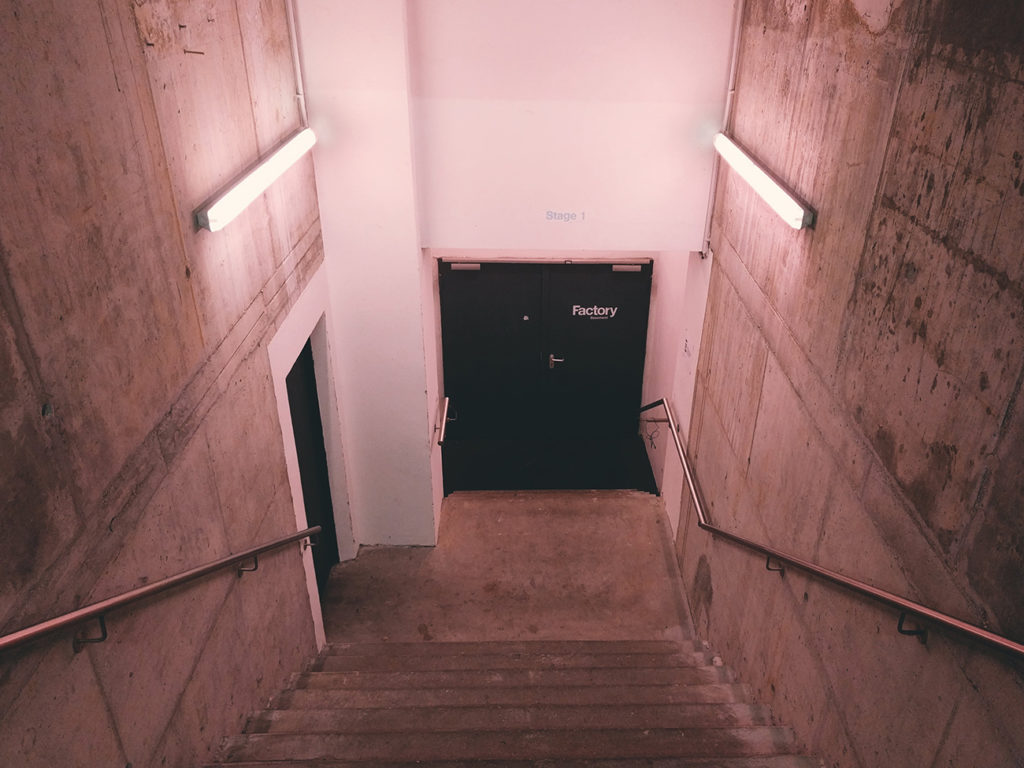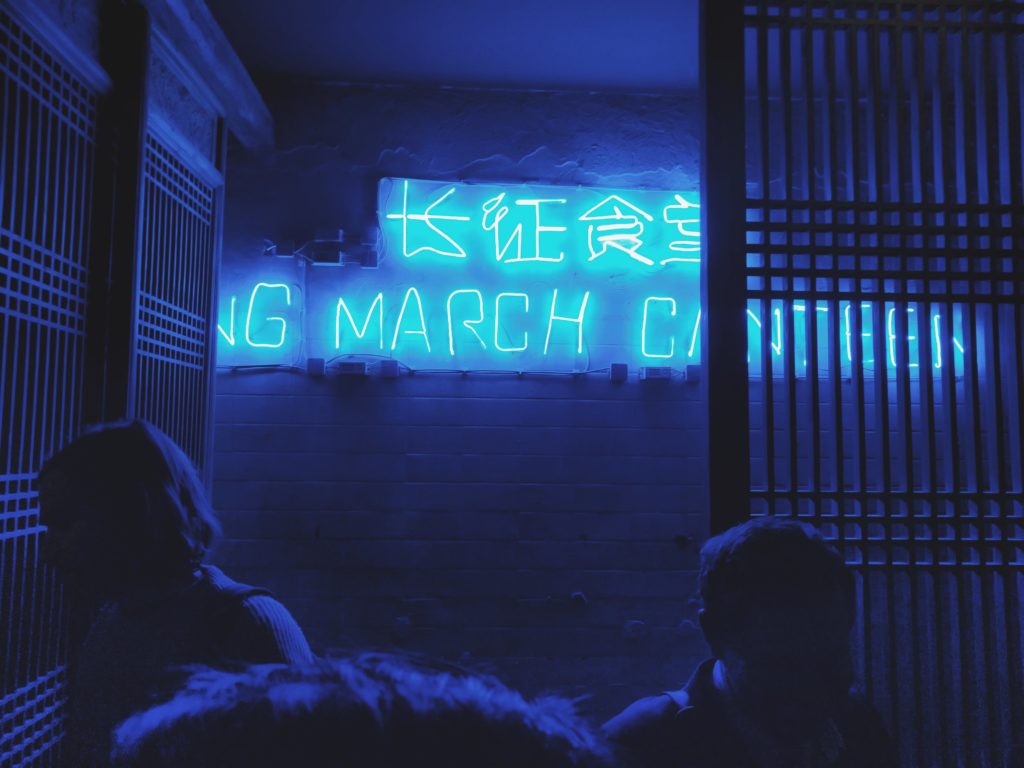 Streaks are a powerful technique for developers to increase user retention and engagement. For example, Snapchat shows you the number of consecutive days you've been exchanging messages with a friend and rewards you with special emojis the longer you manage to keep the streak alive.
The user's urge to continue the streak doesn't really come from the positive rewards though, but is mainly based on negative reinforcement, namely the fear of losing the streak. This behaviour can be attributed to the "Sunk Cost Effect", which describes our reluctance to pull out of something we have put effort into.
There has been a lot of criticism lately about negative reinforcement loops and gamification techniques that make apps more addictive – especially when used by services or games which are primarily used by kids/teens.
But streaks can also be extremely helpful when used in the context of self-improvement because they help to build habits.
I currently use three tools that use streaks which help me to build (and maintain) habits and be more productive:
• Headspace
Headspace will show you the number of consecutive days you've been meditating. Making meditation a daily habit has been super difficult for me and the streaks have definitely helped. I wish they were more public though to add some social pressure.
• Swarm
This one might be a little suprising to some of you, because most people just use Swarm as a life logging tool to remember which places the have visited. Swarm introduced streaks a while ago, but I'm not sure how many people use it build habits. I use to make sure I go for a swim at least once per week. I am currently at week 73 and counting 💪.
• WIP Chat
WIP is a community of makers and a public to-do list at the same time. Apart from the negative reinforcement (losing the streak), it also adds a lot of positive reinforcement in form of the encouragement from other makers in the community. WIP is one of the best products I've started using recently and has definitely helped me to be more productive. Great job, Marc! 👏
There have been a few reports recently about Apple rejecting apps which make use of Apple's emoji set outside of the keyboard.
I find this very surprising. Emojis are a completely underrated platform moat, in my opinion.
Android and iOS have become more and more similar and there are hardly any switching costs left for consumers:
• Both operating systems offer pretty much the same features
• You have high-end devices for both platforms (most importantly equal camera quality)
• All major apps are available for both iOS and Android
• Switching from iOS to Android literally doesn't take more than a few minutes
This leaves Apple with only handful advantages over Android:
• New apps are usually released on iOS first (temporary exclusivity)
• Apps which are only available on iOS, most importantly iMessage
• And: Emojis
Android has several emoji-problems:
• Some emojis look vastly different than their iOS counterpart leading to miscommunication
• Due to Android's openness some OEMs use custom emoji sets
• The emoji redesign that comes with Oreo looks horrible
• Fragmentation means that lots of emojis aren't available at all
I don't have data to back this up, but I'm pretty sure there are psychological switching costs because you feel partly excluded from the conversations you are having with your iOS-friends (especially in group chats).
So Apple should embrace the use of its emoji set as much as possible, but prohibit developers from using them in their Android apps (which I assume has happened in the case of WhatsApp and Slack).
It'd be great if someone would come up with an open-source set of great looking emoji that become the standard across all platforms.
• Vegan Pork Belly
• Bánh mì
• Fried Pickles
• Mussels with Venison
Summary:
Read (parts of) 2 books (130 min, -68%) and 26 long-form articles (-21%).
Listened to 814 songs (+26%), 2 audiobooks (1115 min, +104%) and 4 podcasts (268 min, +36%).
Watched 5 movies (+/- 0%), 2 soccer matches (-33%) and 21 TV episodes (+ ∞).
Books:
Akira, Vol. 1 (Katsuhiro Otomo)
░░░░░▓▓▓▓▓░░░░░ Progress: 30-50%
Utopia for Realists (Rutger Bregman)
░▓▓▓▓▓▓▓▓▓▓▓▓▓▓ Progress: 3-100%
The Three-Body Problem (Liu Cixin)
░░▓▓▓▓▓▓▓▓▓▓▓▓▓ Progress: 11-100%
Snow Crash (Neal Stephenson)
░░▓▓░░░░░░░░░░░ Progress: 8-18%
Recommended Articles:
My Family's Slave (The Atlantic)
Everyone Is Getting Hilariously Rich and You're Not (The New York Times)
In Search of the Elusive Bitcoin Billionaire (Reason)
Tyler Cowen's 12 rules for life (Marginal Revolution)
Amazon's Go and the Future (Stratechery)
Beyond the Bitcoin Bubble (The New York Times)
Recommended Podcasts:
Confronting Your Fears and Taking a Leap with Pieter Levels of Nomad List (Indie Hakcers)
Movies:
(Movies crossed off the IMDB Top 250 list: 4)
Star Wars: Episode VIII (Rating: 3/5)
The Pianist (Rating: 4/5)
Good Will Hunting (Rating: 4/5)
To Kill a Mockingbird (Rating: 2/5)
A Beautiful Mind (Rating: 4/5)
Recommended TV-Series:
Music:
Top Artists: Nils Frahm, Radiohead, Thom Yorke, Nine Inch Nails, Hans Zimmer
Favorite Song: Thom Yorke – Black Swan
You can subscribe to this blog
via RSS
, follow me
on Twitter
or sign-up for my monthly newsletter: